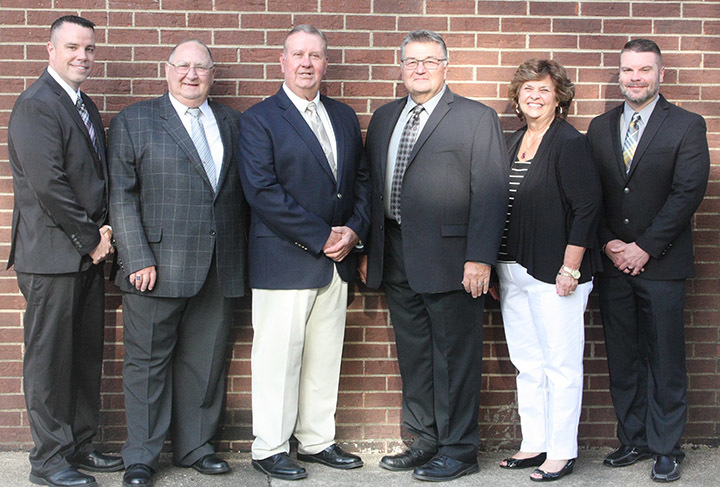 The Arcadia Valley R-II School Board - Mr. Ronnie Gibbs, Mr. Mike Hartwig, Mr. Byron Inman, Mr. Jim Erpenbach, Ms. Linda Bowling, Mr. Tommy Brogan. Not Pictured - Mr. Joe Branstetter
ABOUT YOUR BOARD OF EDUCATION
As elected representatives of the citizens of the Arcadia Valley R-II School District, the seven-member Board of Education serves as the governing body for the community's public school system. The school board sets district policies, selects the superintendent of schools, adopts the annual budget, and determines the tax rate. An annual school board election is held in April. Board members serve three-year overlapping terms with two or three members elected each year. School board members receive no salary and are committed and concerned citizens who devote countless hours working on behalf of the children and the educational interests of Arcadia Valley R-II residents.
MEETINGS AND AGENDAS
The Board of Education generally meets the second Thursday of each month at 6 p.m. Meetings are held at the Office of the Superintendent of Schools, 750 Park Drive, Ironton, MO. The community is welcome and encouraged to attend. Regular meetings and board workshops are open to the public. Executive session meetings, which are closed to the public in accordance with Missouri Sunshine Law, are scheduled as required and held only for certain student, personnel, property and legal matters. Agendas for the monthly meetings are prepared the Friday before each Thursday meeting by the superintendent of schools in consultation with the Board president. Copies are distributed on Fridays to each school building for posting. Copies are also sent to the local newspaper. Agendas are available to the public at the front desk in the central office or at the meetings. The official minutes of the Board of Education are available for public review in the superintendent's office.
ADDRESSING THE BOARD
District residents who wish to address the Board must submit a written request five work days prior to the meeting date to the superintendent, outlining their business with the Board. Speakers are to be brief with their comments and are to furnish copies of their comments. Residents may also express their views by writing to Dr. Brian Beard, Superintendent, 750 Park Drive, Ironton, MO 63650. Copies of the material submitted will be provided to all Board members for consideration.
Arcadia Valley R-II School District
750 Park Drive Ironton, MO 63650
(573) 546-9700